As promised a few days ago I'm writing a few words on the Monotone Summit which took place in Wuppertal from 28th of April to 4th of May 2008. I could only attend for five days because my train left already on early saturday morning, and I almost managed to get too late to it – must have been the absence of sleep, but lets tell the story from the start.
Before I arrived in Wuppertal on monday noon my feelings were a bit mixed about the event. On the one hand I had not attended anything like this before in my life, on the other hand I was completly puzzled what should actually happen there, because virtually no conversations or communication about possible topics happened on the mailing list beforehand. Given the fact that only seven people attended our little summit (me included) and none of the core hackers managed to ship over from the US, I was also unsure if it would actually become a success. Last but not least I was not sure if there was actually so much I could do for the project, being only a casual contributor who most of the time fixes UI / frontend bugs or works on the automation interface.
So after about five and a half hours train riding I found my way to the W-tec building and to the summit room we've been invited to use for the whole week. The ice broke pretty fast. Thomas Moschny, Dan Carosone and Lapo Luchini arrived earlier and were already discussing and working on different topics. Our hosts, Christof Petig and Siegfried Herbold, were also there and provided us with everything we needed (well, you know a programmer is satisfied if he gets coffein and occasionally something to eat :-)). Richard Levitte arrived later at the same day after getting horribly lost while navigating to W-tec by car. I must admit that I wouldn't have done any better as a Swede in Germany.
Since our little crowd contained at least two interface gurus (Thomas Moschny, who is the author of TracMonotone and me obviously, the guitone guy), one of the main topics were improvements in the automation interface. We had and still have the strong belief that with a better, more complete interface it gets easier to connect monotone to all kinds of other software, thus increasing the uses and the amount of users over time.
Dan's and Christof's first topic was cvssync, which should help projects which are still stuck on CVS to get into touch with distributed version control much easier, by providing tools to push and pull contents from a CVS repository to and from monotone.
Lapo created a new grammar for selectors with the help of ANTLR which also led to many discussions during the summit (most of these discussions were lead by Dan :)).
On wednesday or thursday Lapo, Richard and Dan started on moving our existing, completly spammed MoinMoin wiki installation over to ikiwiki. The nice thing about ikiwiki is that it provides many different backends to version control systems, so our new wiki (temporary URL here) actually has a fully blown history, merge support and can be edited just from our local command lines – neat! My task later was to make it look a bit prettier and similar to what our front page looks like – easy, given the fact that I don't do much else on my daily job…
Beside working on the automation interface (here especially ticker support for commands which need those, like f.e. push, pull and sync) I did some work on guitone. Lapo gave me input for the file diff dialog (which now displays correct line numbers).
Christof and me also started on thursday working on a TortoiseMonotone version. Christof stole some code from TortoiseHg (which astounded us is completly written in Python!) and wrapped his head around the Windows API, while I started the work on making interfacing with guitone possible, in particular preparing guitone on the other side to make it run mainwindow-less on request. This was actually pretty easy thanks to the fact that I introduced the dialogmanager wrappers in 0.7, so main windows and dialogs were only roughly coupled together.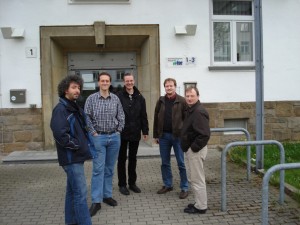 (Lapo, Dan, Christof, Thomas M. and Siegfried [from left])
More stuff will probably fall out within the next versions of monotone and guitone, when more work and polishing is done on the projects which just started at the summit, so don't expect that everything is already in place the next time you pull the development head of either project.
In the end these five days have been a great time for me, because I finally met some of the people I only knew from IRC or the mailing list and I got the strong feeling that the monotone community – despite of all the competition it has to face – is still alive and keen on working on this great software.
Christof was an awesome and gentle host for Richard and me during the time – we've had our own little appartment in his house and he managed to spend a lot of time during the summit for us even though he has a wife and two kids which obviously needed some care as well. This was not always easy, given the fact that our usual day started on 9:30am and ended between 12am and 2am in the morning. I guess he needs a vacation after this "vacation" – so Christof let me repeat my invitation: If you ever want to go east and visit Leipzig, you're very welcome here!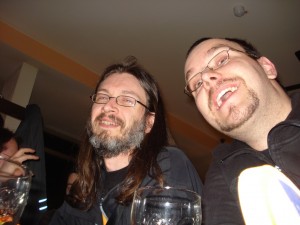 (Richard and me)